Do you want to put your philanthropy at the service of high-impact humanitarian actions? Do you want to achieve your social responsibility goals? Discover the solutions offered by MAGNA to join our fight for access to healthcare for everyone at home and around the world.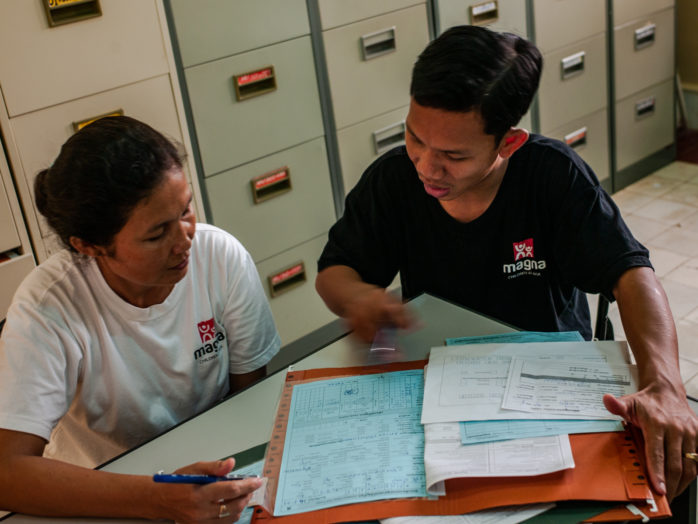 Why MAGNA?
Together with us, you will involve your company in improving access to healthcare worldwide. By building a partnership with MAGNA based on trust, efficiency and transparency, you will increase the impact of your business.
Why mobilize your customers?
Through your marketing communications, you share with your customers your commitment to social responsibility, which you have associated with MAGNA. Strengthen the trust and loyalty of your customers.
By offering new products, you will increase solidarity and thus reach a new audience.
Consumers increasingly expect a concrete social commitment from brands. Offer your customers the opportunity to make responsible purchases that help save lives with MAGNA.
Lots of opportunities to get involved
Throughout the year or during a given period, you donate a portion of your sales to MAGNA. This may apply to the entire range or to specific products or services. For your customers, your brand is all the more attractive if it is engaged.
Thanks to turnkey technical solutions, you offer your customers the option of adding a donation of a few euros or cents when paying at the checkout or online. For them it is a small amount, for the MAGNA teams many small donations can really fund a large project to help save lives.
Multiply donations from your customers
Multiply the funds raised for MAGNA teams by matching donations from your customers. Show them that the facts they care about are important to you.
Integrate MAGNA into your loyalty programs
Instead of turning them into gifts or vouchers, offer your customers to give their loyalty points to MAGNA teams and turn them into a donation.
Our areas of interventions
Innovations in healthcare
An example of cooperation – BUBO
Your donation will help us provide food, medical care and emergency support services to families whose lives have been torn apart by conflict. By participating in a tour with BUBO, you can support these people with the sum of 15 euros. This amount goes directly to help Ukrainians in the attacked areas, so please understand that MAGNA's contribution is non-refundable.
I have known Martin and Denisa from MAGNA for 20 years as incredibly noble and honest people. They help where it is really bad. Even now, their team works directly in the areas where the fighting is going on, helping the most vulnerable. I consider it my honor to be able to support them in this valiant work.
Other ways to get involved
Have more questions or want to get involved?