Logistic and Supply Coordinator
Position: Logistic and Supply Coordinator
Base: Kinshasa, DR Congo
Start: ASAP
MAGNA is a non-profit independent medical humanitarian organization. We provide medical assistance to people affected by conflict, epidemics, disasters, or exclusion from healthcare. Our teams are made up of health professionals, logistic and administrative staff.
We recruit medical and non-medical personnel, collects private and institutional funds and raises awareness among the public about populations in danger. Using a small but highly committed group of staff and volunteers, we have achieved respectable results. We treat patients suffering from a wide array of illnesses and health needs (child health, malnutrition, sexual violence, women health, mental health, HIV/AIDS, malaria, cholera and other diseases).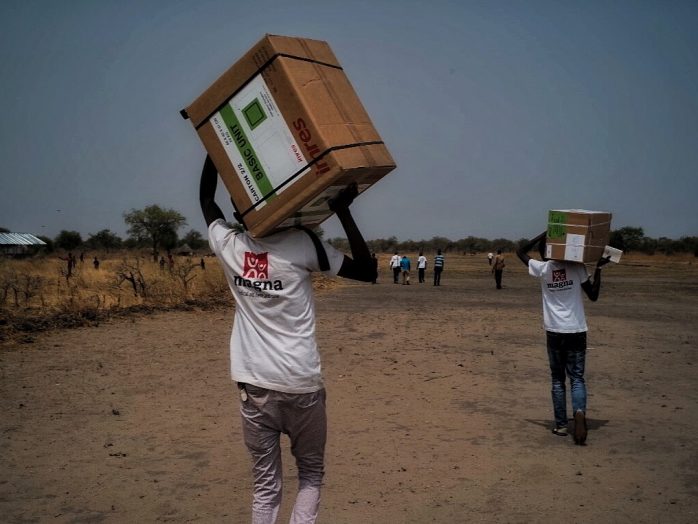 Overall objective
The Logistics and Supply Coordinator defines and implements supplying and logistics strategies for the areas of intervention.
The Logistics and Supply Coordinator defines and implements supplying and logistics strategies for the areas of intervention. He ensures the relevance and coherence of the logistics programs, the adequacy of the means provided and the respect of MAGNA standards and protocols in order to facilitate the establishment of the mission in perfect working conditions and to optimize the influence of the medical projects.
Actively participate in the definition and updating of the annual planning of its activity and projects (budgets, action plans, etc.). Monitor the implementation of technical and logistical activities of the mission (construction and rehabilitation, stock and supply of medical and non-medical materials, transport, communications, water and sanitation, vehicles and machinery, equipment / facilities and infrastructure , etc.) in compliance with MAGNA standards and procedures.
Be responsible for the proper implementation of HR policies and related processes (recruitment, training, briefing/debriefing, performance evaluation, detection of potential, professional development of staff and internal communication) in order to ensure that both the number of people and the amount of knowledge necessary for the activities for which he is responsible.
Ensure the proper use and maintenance of IT (computers, software, backup, etc.) and communication equipment.
Define and monitor technical aspects of risk reduction policy, transport, communications, protection, identify and prepare technical aspects of mission security policy and guidelines, evacuation plan and of the emergency measures plan. Carry out daily monitoring of the application of day-to-day security rules and report any problems to the head of mission. To this end, the logistics coordinator will have to create an appropriate framework to facilitate the exchange of information on security issues and will be responsible for security in the absence of the head of mission.
Represent MAGNA in meetings with authorities and other NGOs on matters relating to logistics, or of a supply nature.
Produce reports on the evolution of the mission or projects from the point of view of logistics and supply activities and make the necessary corrections.
EXPERIENCE
24 months minimum of experience in the field with other NGOs including 12 months of expatriation (outside the country of residence) and 12 months minimum in a logistics coordination position
Field experience in several types of countries/contexts/activities, including at least one in an emergency context
AVAILABILITY
6 months minimum
LANGUAGES
english proficiency
mission language required
SKILLS
– mastery of skills in several technical or logistical fields: supply, transport, stock management, mechanics, WASH, electricity, IT, construction, etc.
– good command of computer tools, experience in project management essential, ability to organize and prioritize the workload-
– experience in negotiation and problem solving
– able to represent the organisation to national and international counterparts
– able to work in a multicultural team
– take initiative
SALARY
Your contract and compensation depends on your country of residence and your experience.

Fixed-term contract with a salary from €2,280 to €2,508, depending on the employee's role and relevant experience in the position. All MAGNA Staff Members with "International staff member contract" are responsible for determining whether they are required to file and pay income taxes in their home country, or current country of residence.
TRANSPORTATION
MAGNA pays for the return trip from your residence to the mission. With contracts over 12 months, you have the option of getting an extra trip to your place of residence.
PER DIEM
Each month in the field, a monthly living allowance called a "meal allowance" is provided to cover the cost of food and personal expenses. The same amount and grants all international employees working in the same country allocations regardless of their location.
DAYS OFF AND HOLIDAYS
MAGNA has decided to provide and pay 25 working days of leave for each mission year. For contracts over 12 months, these days are higher, depending on the length of the contract.
ACCOMMODATION IN THE FIELD
For the duration of your assignment, you will be provided accommodation in a MAGNA-approved residence.

Accommodation can vary greatly from project to project depending on living conditions within the mission country or project area. In some areas, volunteer accommodation and the MAGNA project office will be in the same building.

One of our basic principles is that all field volunteers should live together. At the same time, we understand that the family and personal situation of a field volunteer can make living together difficult, especially in longer-term projects. For these reasons, if possible, MAGNA pays for individual accommodation.
INSURANCE
MAGNA provides health care and medical evacuation insurance.
HOME CHILD ALLOWANCES
A monthly amount paid together with the salary for dependent children who remain in their country of residence. It is provided only for employees working with MAGNA for more than 12 months and in a coordination position.
Before submitting your online application, please ensure that your professional profile meets MAGNA's field requirements. Some criteria – including required availability – may differ between profiles.