Ukraine
Ukraine: supply of hospitals with medicines and materials during the war
MAGNA supports and works directly in 15 medical facilities and hospitals in Kyiv, Chernihiv, Kharkiv, Vinnytsia regions. Thanks to the operation of MAGNA in Ukraine, in the first 6 months, more than 580,000 people gained access to health care, and to supplies of medical materials intended for obstetric, surgical and medical procedures, as well as to and kits of supplies intended for the provision of first aid.
Many MAGNA patients in Ukraine have been injured in military attacks targeting civilian residential areas. The mass use of heavy weapons in densely populated areas means that civilians are inevitably, and therefore knowingly, killed and injured. Attacking forces also shot at civilians during evacuation or attacked them when they tried to leave war zones. The elderly were brutally and directly attacked, and their particularly vulnerable position was completely overlooked by the attacking force. Injuries are often extensive and affect people regardless of whether they are male or female, young or old.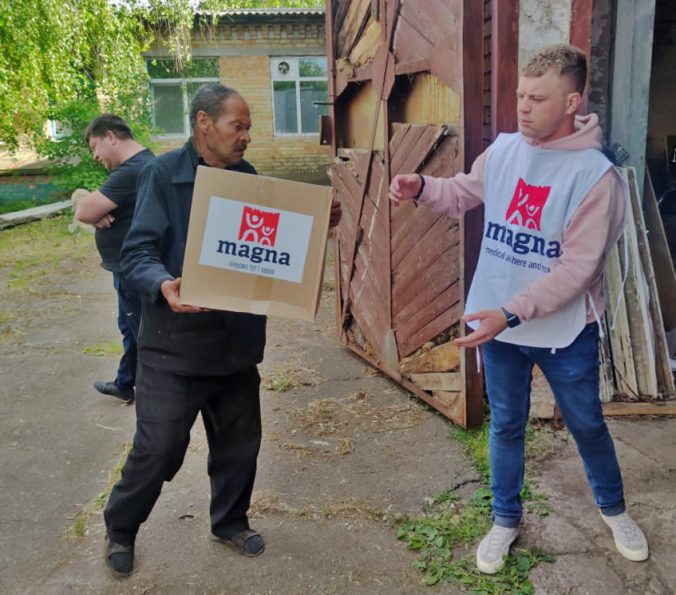 News and reports from Ukraine
Read the latest news and reports on operations in the country,
Support our lifesaving medical humanitarian care
Why does MAGNA intervene in Ukraine?
The armed conflict in eastern Ukraine affected 5.2 million people. More than 3,000 civilians have been killed and another 9,000 injured since the conflict began in 2014. The humanitarian situation continued to deteriorate in Ukraine in 2018, with the number of people in need of humanitarian assistance and protection rising to 3.5 million. Ukraine is currently in a military conflict and the number of victims is constantly increasing.
Emergency response
Assistance to refugees and displaced persons
The first MAGNA intervention in the country
MAGNA operations in Ukraine
See our operations in the country in detail.
---
Latest
Read the latest news from our operations around the world.