Ukraine: 473 Ukrainian children did not survive, 1.5 million are at risk.
Since the beginning of the Russian military aggression in Ukraine, 473 Ukrainian children have died and another 1.5 million are at risk. Medical humanitarian organization MAGNA provides them with assistance on the spot. It intervenes daily in acute critical conditions and traumas, provides psychosocial support, increases the availability of medicines and created a system for sending seriously ill patients to health care facilities.
In order for MAGNA to communicate these threatening facts to the public on the anniversary of the war on Friday, February 24, 2023, its volunteers are carrying out a suggestive installation in the streets of Bratislava, which consists of pathological bags placed on the ground and filled with stuffing in such a way that they appear to contain the bodies of child victims. Abandoned toys are placed next to each of the bags and a sticker is stuck on the bags with information about how many children have died in the war in Ukraine so far and that many of them are still in danger and need help.
What is MAGNA doing in Ukraine?
MAGNA responded to the war in Ukraine immediately. Her teams worked in the area for a long time, and in the first days of the war, they provided medicines and medical supplies to medical centers and paramedics in the area northwest of the capital city of Kyiv, which was experiencing heavy fighting and many civilians were injured here.
Subsequently, MAGNA deployed its medical teams on the ground and provided assistance to a total of 580,000 people during the year. To ensure the quality of health care, MAGNA supported medical facilities with trauma medical teams, supplies of hospital equipment, consumables and medicines. Medicines and medical supplies were regularly delivered throughout the year to 15 medical facilities in Kyiv, Kharkiv, Chuhuiv, Kramatorsk, Vyshgorod, Ivankiv, Bojarka, Makariv, Brovary, Pervomaysk, Vinnytsia and Donetsk, where we treated a total of 321,430 patients. At the same time, MAGNA psychologists helped 2,010 patients with their mental health.
Children in Ukraine have been living in fear and danger for a year. There are 1.5 million of them. In the cold, dark and without childish joy. The trauma they experience is unimaginable for us here. Let's not forget them. Let's help them.
Figures and facts about aid in Ukraine
321 430 treated patients
5 906 trauma medical interventions
187 200 urgent medical consultations
2 010 people receiving mental health treatment
15 static medical facilities and hospitals with regular supplies of medicines and materials
580 000 people gained access to health care, and to stocks of medical material intended for obstetric, surgical and medical procedures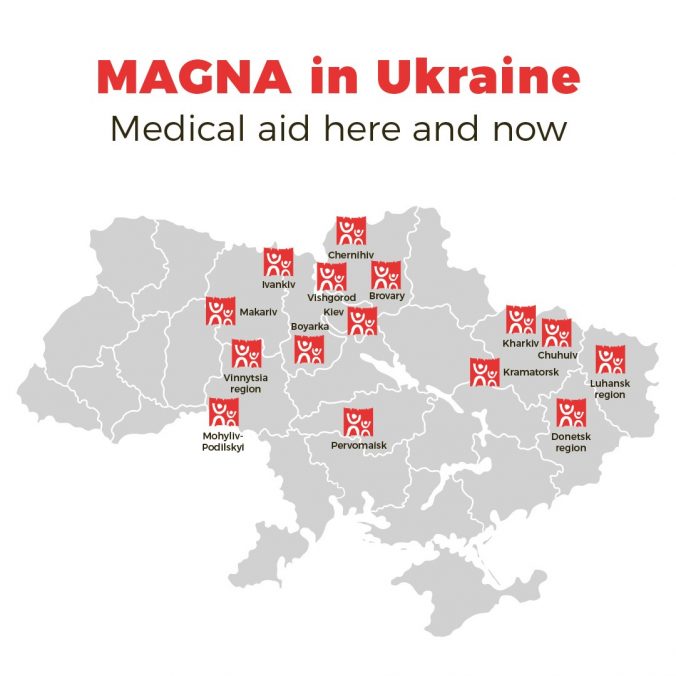 In the first year, the MAGNA intervention in Ukraine restored basic and super-standard health care services with comprehensive, timely and necessary support of medical facilities and improved the access of the war-affected population to health care, such as access to traumatological emergency services for the population affected by the conflict (explosions, gunshots, etc. ), as well as dealing with possible conflict-related traumas (burns, traffic accidents, etc.). Health services provided through regular visiting mobile teams are and have benefited populations without regular access to static hospital facilities, including displaced populations who need access to primary health care and chronic patients as well.
What can you do for children and their families in Ukraine?
An efficient and quick way to help save lives is to donate. You can also to the public collection bank account SK5811000000002943004292 (variable symbol: 1100) or online here and now.
Support our lifesaving medical humanitarian care.
---
Latest
Read the latest news from our operations around the world.